Report added to cart
report
Undercurrent News: World's 100 Largest Seafood Companies 2016
Undercurrent News: World's 100 Largest Seafood Companies 2016
Undercurrent News: World's 100 Largest Seafood Companies 2016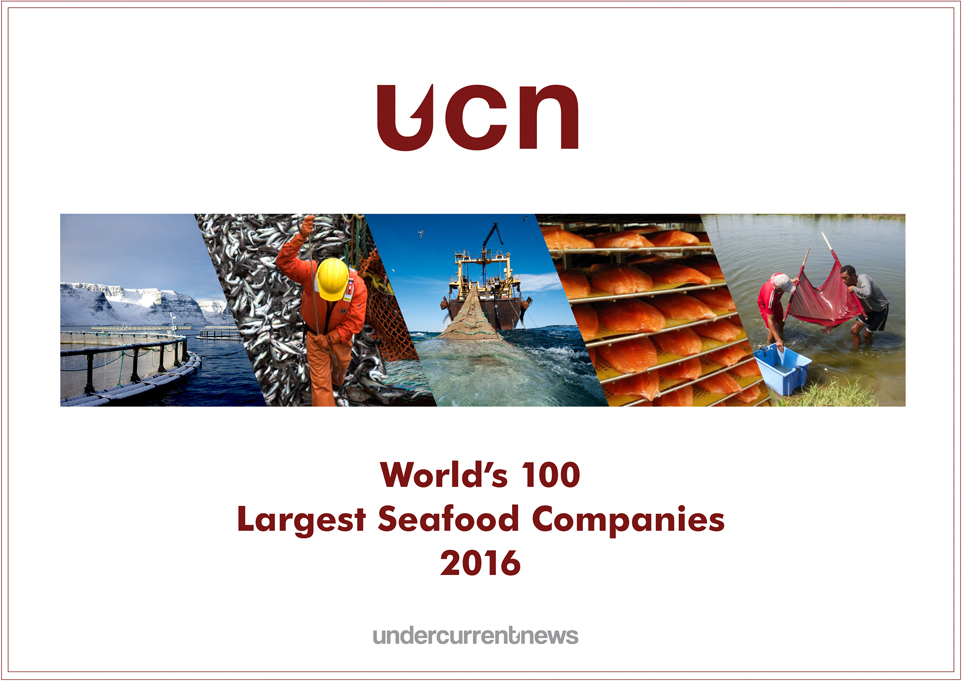 Discounts are also available if you're purchasing one of our quarterly M&A reports, which provide more context and color on the trends, deals and consolidators. You can read more on the Q1 report, here. here
For more information: reports@undercurrentnews.com
Undercurrent News: World's 100 Largest Seafood Companies 2016
Find out who's who in the seafood industry with this unique report ranking the sector's largest firms, by their revenue figure.
This latest 271-page-long edition of Undercurrent News' annual ranking gives an overview of the largest companies in the seafood industry, detailing who they are, summarizing key events and ranking them by the size of their 2015 or latest available revenue figure, in US dollar equivalent.
It is an invaluable sales tool for anyone working in or with the seafood industry.
Combined, the 100 companies on our ranking this year had revenues of nearly $93 billion in 2015, which is down from last year's edition.
Currency fluctuations and a strengthening of the US dollar against all major currencies listed in our report are the main reason for the drop in this year's combined value. Similar to last year, the ten largest companies - which each had revenues surpassing $2bn -- accounted for over a third of revenues of the top 100 companies. The top 25 companies accounted for more than half of the top 100's combined revenue.
This year's report features seven newcomers on our list, from Ecuador, the United States, Canada and China.
Nevertheless, as in our past reports, Japanese companies comfortably dominate with 25 of the companies listed, followed by the United States and Norway third. China, Spain and Chile are the only other countries with more than five companies represented.
Looking at the companies' movements up and down the ranking from the last report illustrates some of the key events and trends that shaped the seafood industry in the past 12 months.
Whereas last year's report was marked by a recovery in Chile's salmon sector, this year's report saw all the main players drop several places down in the ranking. Struggling with falling prices -- and poor catches in the case of those with fishing activities -- Blumar Seafoods' sales fell 28%, Multiexport Foods 13%, AquaChile 20%, Pesquera Camanchaca 11% and Corpesca 13%.
Across the border, El Nino also affected catches, dragging sales down at Peru's largest fishmeal exporter, Tecnologica de Alimentos (TASA).
Large processors such as Nomad Foods, Young's Seafood and High Liner Foods reported slight drops in sales, while Pescanova, now known as Nueva Pescanova, reported a more than 13% drop in turnover from its 11-month sales of 2014.
But the steepest drop on this year's report is that of Pacific Andes International Holdings. This could also be the last year that the Hong Kong-listed firm, which filed for bankruptcy protection for several of its subsidiaries in June, features on our report.
Unlike their Chilean counterparts, Norwegian salmon producers enjoyed yet another year of strong prices. Marine Harvest, the world's largest salmon producer, followed up its 33% growth of 2014 with a 9% hike. Austevoll Seafood was up 7%, SalMar 2%, Grieg Seafood 12%, while Norway Royal Salmon upped sales by a whopping 23%. Privately held exporters Coast Seafood and Seaborn also rode the same wave with higher turnovers.
In Thailand, Charoen Pokphand Foods continued its recovery from the devastation caused by early mortality syndrome (EMS) in shrimp. After a drop of 31% in 2013, the Thai shrimp farmer, known as CP Foods, reported 8% revenue growth -- though it remains a long way from the levels of pre-EMS.
Several of the fishing companies also had a strong year -- South Africa's Oceana Group reported a 22% growth in sales, while Iceland's Samherji, Denmark's Sirena and Polar Seafood also benefited from favorable markets.
Others such as Mitsubishi, flush after its takeover of Cermaq, got a lift in part from acquisitions. Additionally, 2015 was reportedly a record-breaking year for mergers and acquisitions (M&As) across all sectors, and the seafood industry has seen its fair share of deals over the past 12 months. In fact, the biggest growth of the year goes also to one of seafood's most prolific acquirers of recent times: Cooke Aquaculture and the Cooke family's more recent business, Cooke Seafood USA.
Find out this and much more in our report, which includes:
Introduction: Who's in, who's out; Overview of recent M&As; Emerging consolidators
Map displaying where the 100 companies are based
Ranking of the world's 100 largest seafood companies, ranked by their latest revenue figures, in USD equivalent. The list also includes the companies' revenues for the previous financial year, and rankings from our last two editions
Overview of each featured company including contact details, names of key executives, brands and subsidiaries & description of the year's key events