Report added to cart
report
Undercurrent News: World's 100 Largest Seafood Companies 2017
Undercurrent News: World's 100 Largest Seafood Companies 2017
Undercurrent News: World's 100 Largest Seafood Companies 2017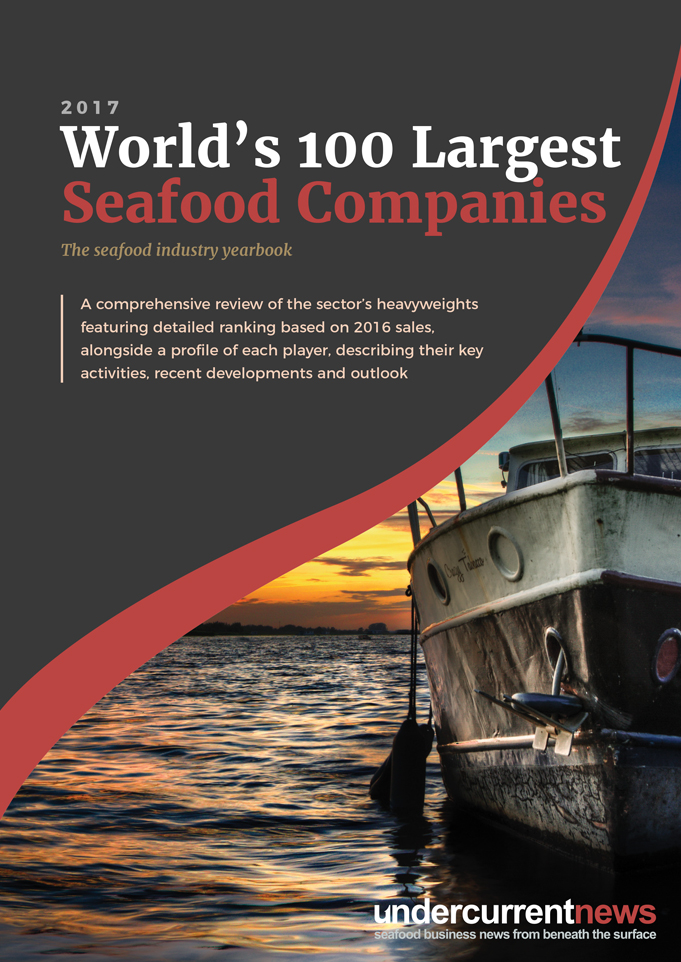 Discounts are also available if you're purchasing one of our quarterly M&A reports, which provide more context and color on the trends, deals and consolidators. You can read more on the Q1 report, here. here
For more information: reports@undercurrentnews.com
Undercurrent News: World's 100 Largest Seafood Companies 2017
Find out who's who in the seafood industry with this unique report ranking the sector's largest firms, by their revenue figure.
This latest 290-page-long edition of Undercurrent News' annual ranking gives an overview of the largest companies in the seafood industry, detailing who they are, summarizing key events and ranking them by the size of their 2016 or latest available revenue figure, in US dollar equivalent.
The report is an invaluable sales tool for anyone working in or with the seafood industry.
When combined, the top 100 seafood companies in the world had sales of $95.99 billion in 2016, up from $92.92bn the previous year.
Also, the latest report features seven new companies of which six were missed out last year; a reminder that mapping the industry's players and their revenues is a constant work in progress.
The geographical makeup for the 2017 list, which reflects 2016's revenues, is largely similar to previous years, with some differences.
This edition features a dozen companies hailing from the US, compared to 14 for last year's list. Canada's Cooke Aquaculture acquired Icicle Seafoods and distributor Southwind Foods' 2016 sales came up short.
Japanese companies, many of which are owned by giant conglomerates that dabble in seafood, took up 24 spots on this ranking. Wholesaler and processor Toyo Suisan didn't make the ranking this year.
Despite their executives' outsized ambitions and the indisputably impressive scale of their infrastructure investments, Chinese firms still have a way to go to catch up to Japan's.
Five Chinese firms -- including Hong Kong-based Pacific Andes International Holdings -- made the list, compared to six on last year's list, as Baiyang Investment Group fell short.
Unsurprisingly, given the sustained upswing in farmed Atlantic prices, Chilean and Norwegian salmon farmers and traders reigned supreme this year, reshaping the fourth quartile of the ranking.
The 2016 ranking, based on 2015's sales, included only seven Norwegian firms and five Chilean ones.
This year, eight firms from Norway and seven from Chile made the cut.
In total, eight top 100 veterans including Iceland Seafood International didn't make the grade this year, leaving seven newcomers ready to take their places.
Find out this and much more in our report, which includes:
Introduction: who's in, who's out
Map: displaying where the 100 companies are based
Ranking: of the world's 100 largest seafood companies, ranked by their latest revenue figures, in USD equivalent. The list also includes the companies' revenues for the previous financial year, and rankings from our last two editions
Overview: of each featured company including contact details, names of key executives, brands and subsidiaries & description of the year's key events