Report added to cart
report
Undercurrent News: World's 100 Largest Seafood Companies 2015
Undercurrent News: World's 100 Largest Seafood Companies 2015
Undercurrent News: World's 100 Largest Seafood Companies 2015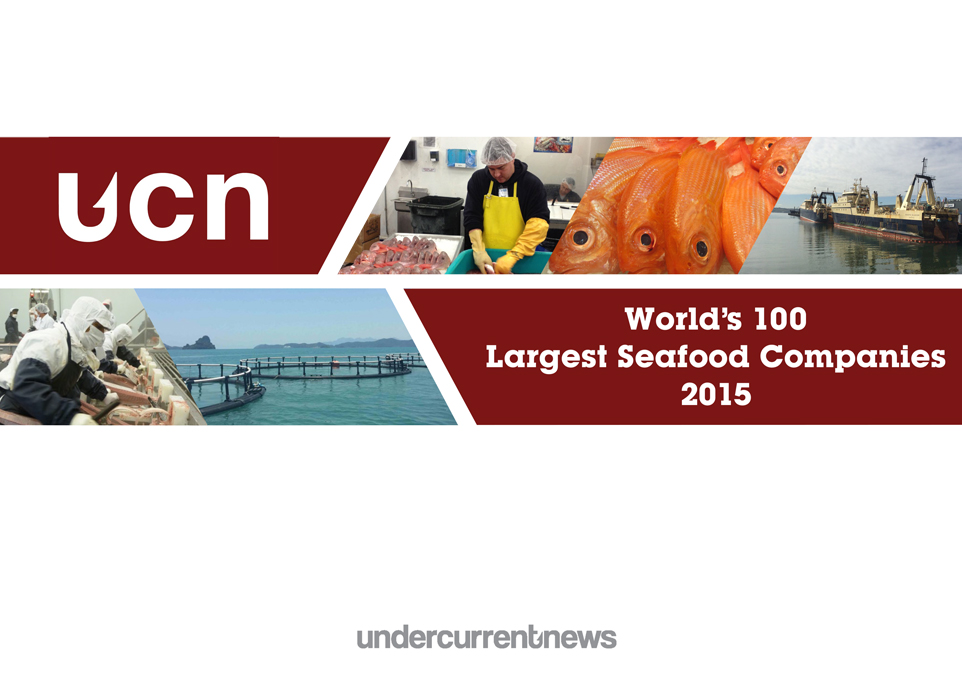 Discounts are also available if you're purchasing one of our quarterly M&A reports, which provide more context and color on the trends, deals and consolidators. You can read more on the Q1 report, here. here
For more information: reports@undercurrentnews.com
Undercurrent News: World's 100 Largest Seafood Companies 2015
This latest 482-page-long edition of Undercurrent News' annual ranking provides an overview of the largest companies in the seafood industry, by detailing who they are, what they do, while ranking them by the size of their 2014 or latest available revenue figure, in US dollar equivalent.
Combined, the 100 companies on our ranking this year had revenues of nearly $95 billion, which is down by nearly $5bn from our 2014 report.
Currency fluctuations and in particular drops in key seafood currencies including the Japanese yen and the Norwegian krone combined with a dramatic collapse in the Russian ruble are the main reason for this drop in this year's combined value.
Similarly to last year, the ten largest companies - with revenues of more than $1.9bn each, -- accounted for over a third (just under $35bn) of the total revenues and the 25 largest for over half ($54.5bn).
Also like our past reports, Japanese companies comfortable dominate with 25 of the companies listed. The US is next largest (12) and Norway third (7), again fairly stable from last year. Spain and Chile are the only two other countries with more than five companies represented.
However, there are also several changes from the previous report. Looking at the companies' movements up and down the ranking from the 2014 report illustrates some of the key events and trends that shaped the seafood industry in the past 12 months.
Take for instance the spectacular collapse of the ruble, a consequence of the Crimean crisis and the ensuing Russian import ban, which has seen Russian Aquaculture drop from 56th place to 91st in our ranking, while another Russian importer fell off our list altogether.
Or take the recovery in Chile's salmon sector, which saw Multiexport Foods claim its place back into our list, boosted by a 33% increase in its 2014 revenue. The other Chilean producers on the report also had a stronger 2014, with Blumar Seafoods and Pesquera Camanchaca recording revenue increases of 25% and 13% respectively, and Empresas AquaChile and Corpesca of 6% and 10%.
An even more spectacular increase was by Indonesia's PT Central Proteinaprima (CP Prima), which has also made its way into our ranking following a 58% increase in seafood-related revenue.
One player, in turn, has been incorporated into bigger ones through acquisition: Cermaq is now part of Mitsubishi, following a $1.4bn cash deal that created the world's second largest salmon farmer.
An even larger deal remained open-ended by the time of this report's publication: Thai Union Group's $1.5bn proposed purchase of Bumble Bee Foods, which would take Thai Union close to its $5bn revenue target if it does go through.
The last 12 months have also seen a number of deals get announced, but not completed, such as Marine Harvest Chile's planned merger with AquaChile, or Paine and Partners' proposed sale of Icicle Seafoods to Indonesian investors.